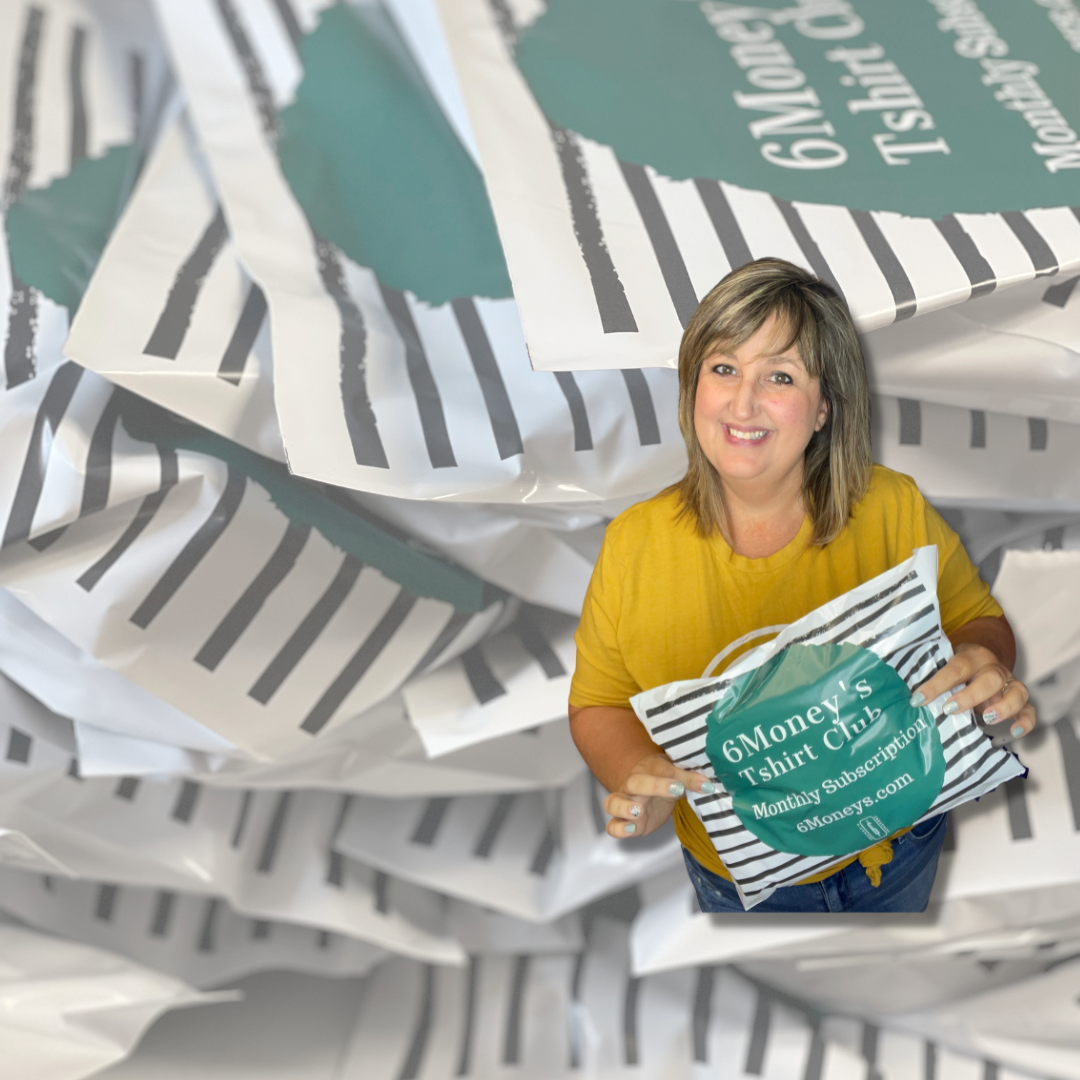 Dress yourself in confidence
Monthly tees created with love
update your closet every month
What if you could wear a t-shirt that:
felt great
made you feel great
and helped you celebrate yourself
CHOOSE THE CLUB THAT SUITS YOUR STYLE
6Money's T-shirt Club
Never wonder what to wear again!

With the T-Shirt Club, you'll get a fun, unique, super soft tee every single month! We have exclusive designs designed by Misti that you'll only find in our club.

Join the Club Now!
Lady Boss T-shirt Club
You're a woman, and you're the boss. You've got a lot going on! It's hard to find time
to stop and take care of yourself.
Lady Boss T-shirt Club sends you monthly shirts that help you celebrate all things about being a business owner. They may even give you a bit a movtivation to help reach your goals and overcome challenges each day.
Join Lady Boss Club
COMBO T-SHIRT CLUB
YOU WANT IT ALL!
6MONEY'S T-SHIRT CLUB + LADY BOSS CLUB COMBINED
Get the best of both clubs each month!
Join the combo club!
you deserve to feel great in your own skin
That's why our monthly t-shirt clubs were formed, a line of super soft t-shirts, with empowering
messages, and comfortable fits will arrive directly to your mailbox each month.
Don't take our word for it
★★★★★

Every month I find a new favorite shirt. I never want to be without my t-shirt club.
★★★★★

But today...these beauties showed up on my doorstep. Two simple shirts. When I opened them I KNEW they were speaking to me.I knew I needed to take what they said to heart. I also knew I needed to share it with the world....
★★★★★

LOVE LOVE LOVE my monthly shirts. I never have to leave my house, and I know I am going to get the PERFECT item to go about my day. You've taken the hassle out of shopping for me.
★★★★★

I don't want to wear any other shirts. I don't know how you do it, but every month I add to my collection of favorites. They are the total package. The look, the feel, the messages...I'm hooked for life.
★★★★★

This t-shirt club has saved my sanity. I despise shopping. You have provided me a new set of clothes and I didn't have to do a thing. It's amazing!